Cinematic Shots 101. Featuring the Anamorphic 1.33 Pro Series V2 + CPL filter.
S | ASSETS | V® |18/10, 2020
ANAMORPHIC LENS
Hello guys and welcome back!
Previously, I talked about my trips and adventures, I showed you some places in Italy and you saw photos made with SV Assets lenses. I can't say that one is better than other, because all of them have specific characteristics and it depends of situation which one you will use. But! When it's about video making, there is just one lens that you need to have. Now, for the first time, the main role has one and only – Anamorphic lens!
Stem from the Greek anamorphoun "to transform", compound of morphé "form, shape", with the prefix aná "back, against", SV Assets optics added to collection this lens for smartphone cinematic video makers and you can notice that final works are just like movies. Of course, the lens is great also for making photos (landscape, for example), but personally I'm using it for videos. Let's make a step back in the history to see how and why Anamorphic lens is created. This story starts in the World War I, out of necessity to provide a wide-angle view for military tanks, but after, they started to use it in cinematic context (1927). The lens was out of use for some time, until early 1950s when Hollywood wanted to guarantee a quality and make people watch movies. SV Assets team has the same reason, they want to be sure that you can find everything you need in high quality in their shop. So, with the Anamorphic lens, you have the perfect equipment also for making videos.
And now, I would like to share with you some reasons why I'm using it… One of things I like the most is the special light effect: light reflections in the lens are elliptical rather than round as in spherical (non-anamorphic) videography. You can also notice the blue-colored horizontal or vertical lens flare that this lens creates. For all bokeh lovers (like me), in this case is amazing – it's oval. With top and bottom black bars, you get the movie effect I mentioned before. All of this, just with your smartphone and right lens.
If you are beginner in a world of videos and editing, you need to be patient. All of these characteristics and benefits are product of a complete work. What I mean by saying this? It's not just about filming, the hard part comes after, you need to make some edits. So, this lens also requires app or post-production editing that supports 1.33X anamorphic de-squeeze. With a little bit of practice, you will be able to do great things.
Now, let's see which application you need to use when using this lens.
When you open the FiLMiC Pro app, you will see next screen where you can find a lot of settings.
First of all, we must adapt our camera to Anamorphic format in the section "gear setting" where we will see these options. As you can see on the photo, we need to choose Hardware.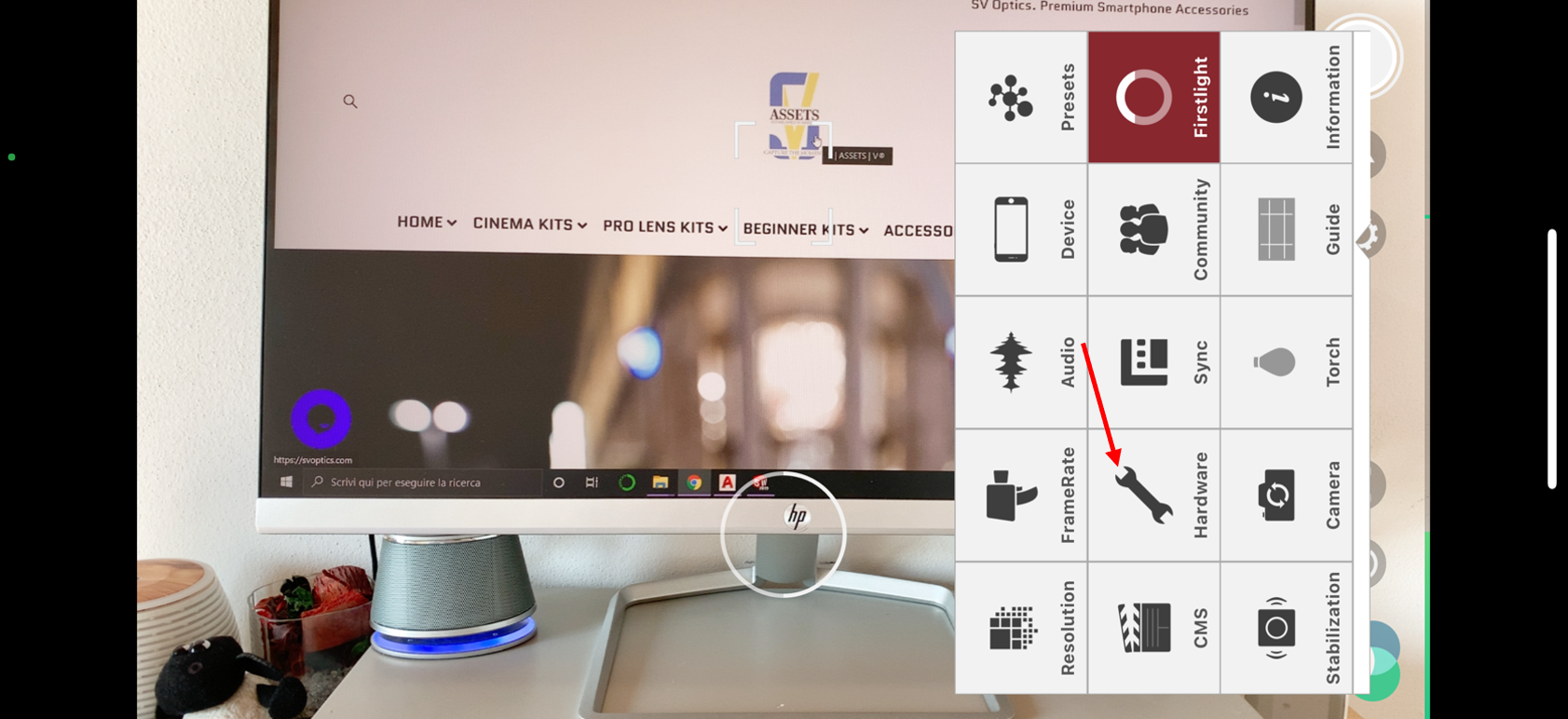 From the menu with various options, we will choose 1.33x Anamorphic Adapter,
The final result is a cropped image, like cinematic format or in other words "letterbox".
Now you can start filming!
If you're making your video in this way, you don't need to do the post-production corrections. This is how I do it, it's simpler and I get great results.
Cheers & have a great weekend!
/Ali H.