SV ASSETS PHONE LENSES & ACCESSORIES - In Rome.
S | ASSETS | V® |16/09, 2020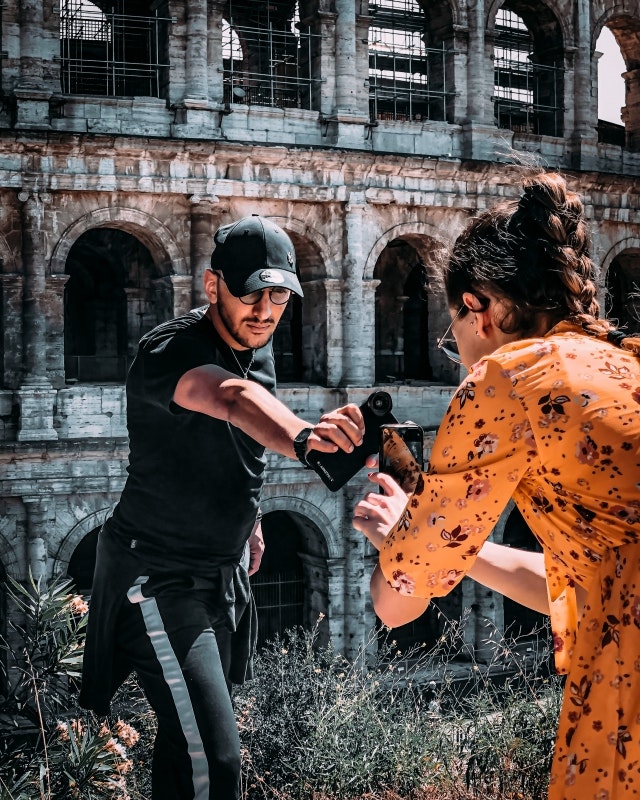 A HOLIDAY IN ROME. SEEN THROUGH SV ASSETS PHONE LENSES.
All roads lead to Rome! Like I promised, today I'm taking you to the eternal city.
I was there a few times and I will return again for sure. There are some places where you leave a piece of your heart and can't wait to return. Rome is just like this!
It's like a museum, every angle of the city has its own story and when you go through the streets made of porphyry, you can smell the air of the other century. If you choose it as your next destination, my advice is to stay there at least 3 days because like ''Rome isn't built in one day", you can't neither see it in one day or two.
In this post I would like to show you how I saw some of the most famous posts in Rome through Fisheye lens. Okay, I used Wide-angle lens also.
Every time when I'm in Rome, I go to see the Colosseum and I always wanted to take a photo of entire building (without going one kilometer away), but it wasn't possible… Till now!
When the first pack from SV Assets arrived to me with Fisheye and Wide-angle lenses inside, I couldn't imagine what I'll be able to do. All the photography lovers know how important is to relies our ideas and have a complete photo. What a feeling stand in front of the largest amphitheater in the world and see it also on your smartphone, just like you see it with your eyes!
For this photo I used the Fisheye lens 8mm Pro Series V1, see below
Shot with the Wide Angle 18mm Pro Series V1, see below.
It's for sure the first station of many tourists in Rome, mine also to be honest, but let's see another roman pearl.
Try to imagine this situation… You're walking down the streets of Rome, typical Italian streets with many bars, souvenir stores, between one and other you can feel the smell of Carbonara and then just behind the angle… Trevi Fountain! In one second you think you're on set of the film "La dolce vita". I present to you this beauty through the lenses.
If you ask me, it's always "aperitivo" time, especially if you're at bar near to Trevi Fountain. My advice for all travelers is to make a little break in the posts like this, take a coffee or drink wine like this young lady. People comes, takes a photos and goes.. Don't run, stop and admire, beautiful places and positive mind are food for soul. I captured this moment with iPhone X in combination with SV Assets Telephoto 60mm lens Pro Series V1, see picture below.
Fun facts: did you know that there are more fountains in Rome than in any other city in the world? In the past almost every visitor threw at least three coins into the Trevi Fountain. At the end of each day, an average of € 3,000 is collected, for a total of € 1.4 million per year, which the municipality donated to charity.
Shot with the Fisheye lens 8mm Pro Series V1, see below.
Before every trip, you should make some researches about the place, but there are always some posts that you find by chance. It's the case with Sciarra Gallery. In fact it's famous, but every time after fountain I was going on the other side of the city so this was my first time to see it. Stunning walkway full of amazing Art Nouveau paintings, I'm back on the set, this time "C'eravamo tanto amati".
Shot with the Wide Angle 18mm Pro Series V1, picture below:
Here is a list of 10 places that you must see when you're in Rome:
Colosseum
Basilica of Saint Peter
Pantheon
Trevi Fountain
Roman forum
Piazza Navona
Sistine Chapel
Spanish Steps
Vatican museums
and of course… Sciarra Gallery.
I would like to mention some other Italian films shot in Rome for all cinema lovers: Caro diario, Umberto D, Roma città aperta, I soliti ignoti, Vacanze romane…
Satisfaction of being able to Capture the moment in Rome and in every other place which I visited with phone lenses from SV Assets is fantastic! The lenses are always in my bag, ready to follow me in my adventures and I hope that you ordered yours to collect memories just like I do!
Don't forget-traveling is learning,
Ali